I find that mid-winter skin – a tad dry from central heating and hot showers, and a bit dull and flaky from the dryness – needs a little more help than my usual body lotion can give – so for the past few weeks I've been trying out three body lotions that all contain glycolic acid, which is great for exfoliating and generally sorting out dry skin – and also for getting rid of rough bumpy 'chicken skin' that can build up on your arms – and all without scouring your skin with body scrubs.
You might think that what dry mid-winter skin needs is a bit of TLC, a spot of indulgence, and exfoliating and acid doesn't sound quite the ticket, but bear with me.
Glycolic acid is brilliant for resurfacing the skin – it's an alpha hydroxy acid and what it does is dissolve the bonds that hold the skin cells together, so old loose dead skin just comes away, leaving a smoother surface of fresher skin. (The dead skin is just a little bit, and it washes off; it's not as if you become like a snake shedding a whole coat of skin at once).
Glycolic acid is also really hydrating because it encourages the skin to hang onto moisture better, and if you use it consistently, you get a reduction in fine lines because of this resurfacing and hydrating effect.
The one thing you want to be cautious of with glycolic acid product is that they will make your skin more sensitive to sunlight, so don't use them when you are going on holiday or when the sun is strong (and, yes, I'd always advise using sunscreen on skin that you're exposing to the sun).
You may have tried glycolic acid in face products, and it's just as good on the body but there just haven't been many body products with glycolic acid around.
Palmer's Cocoa Butter Anti-ageing Smoothing Lotion
This Palmer's product is the exception – it has been available for years – and this is what it looks like. It's a great product with a low concentration of glycolic acid (that's the Alphy Hydroxy acid on the label). It also contains salicylic acid (Beta Hydroxy acid) which is helps clear out the pores, so that's another kind of exfoliation and one that's good for keeping down levels of spottiness.
It's quite runny, and it smells delicious, with that chocolate-y smell that all the Palmers Cocoa Butter range has – though be warned, I find it's a smell that lingers and gets into your clothes. so if you're ok smelling sweet and chocolatey, then all well and good, but if you're not, you might want to use it overnight rather than during the day. It's an absolute bargain and costs around £4 for a 250ml bottle and it's widely available online.
Next – Exuviance Retexturing Treatment
This is new, and a much more sophisticated glycolic formula from Exuviance (which is a sister brand to Neostrata, which makes effective, high-tech products that you find in skin clinics rather than beauty departments). This has 5 per cent glycolic acid and five percent of a blend of other hydroxy acids (PHA on the label stands for poly-hydroxy acid) so it's going to get to work a lot more quickly and effectively than the Palmers product. It smells really light – you don't notice that it's there – and it has shea butter and vitamin E for an extra hydrating effect and it feels really nice on the skin. £33 from www.effortlessskin.com
And the knockout punch – ViDerm Exfoliating Lotion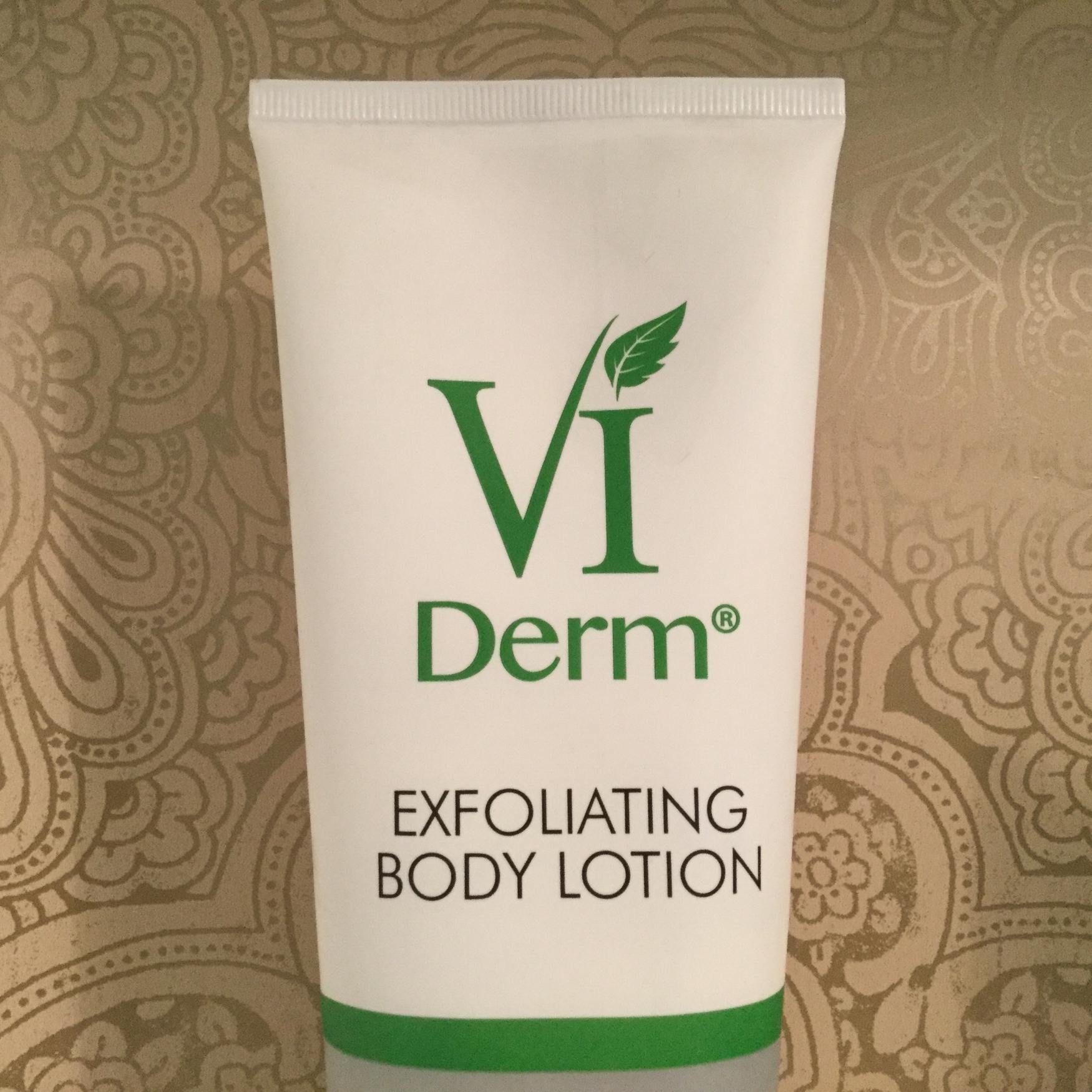 In this ViDerm lotion, you get a major dose of 15 per cent glycolic acid, so if you want quick results, this is the one to go for – it's quite a thick cream and smells of sweet vanilla, but not in an offputting way. It also contains azelaic acid which is really good for bringing down inflammation in the skin. I was a bit worried it might sting, or make my skin go a bit red, but it didn't – I've been using this on one arm and one leg, and the Exuviance product on the other arm and leg for a few weeks and they've both done a great job, particularly on the rough skin on my knees and under my forearms which gets scuffed up when I lean on them during yoga. I couldn't tell whether one was working more quickly or effectively than the other, so there's not much to choose between them. I found this at the Waterhouse Young clinic, but they don't sell it online, but you can find it though rosmetics.co.uk and it costs £38.
And here's me talking these through on my Youtube channel