TOTW  Ep 11 – Intraceuticals, the glow-boosting facial
28th November 2019
If your skin is feeling dry and lacklustre, can it be coaxed into healthy, glowing, red-carpet-ready condition in the space of an hour?
The answer is – yes, with an Intraceuticals facial, which uses a spray of pressurised oxygen to drive a series of hydrating serums deep into the skin, to support skin health and and enhance its glow. I have tried this a number of times and am always impressed by the way it sculpts and lifts the contours of my face, as well as the super-deep hydration that it delivers.
Why is Intraceuticals such a celebrity favourite  and why does it work for every skin type? I went to the S-thetics clinic in Beaconsfield, to meet Miss Sherina Balaratnam, the founder and medical director, to find out. You can see what the treatment involves on the video, here
This video is sponsored by Intraceuticals
SB: So what you're really looking to gain from your treatment,  what are your core concerns and what would you like to address?
AHD: I'm looking for a bit more clarity and hydration in my skin.
SB: Okay, welcome to skin analysis, I think it's a great place to start.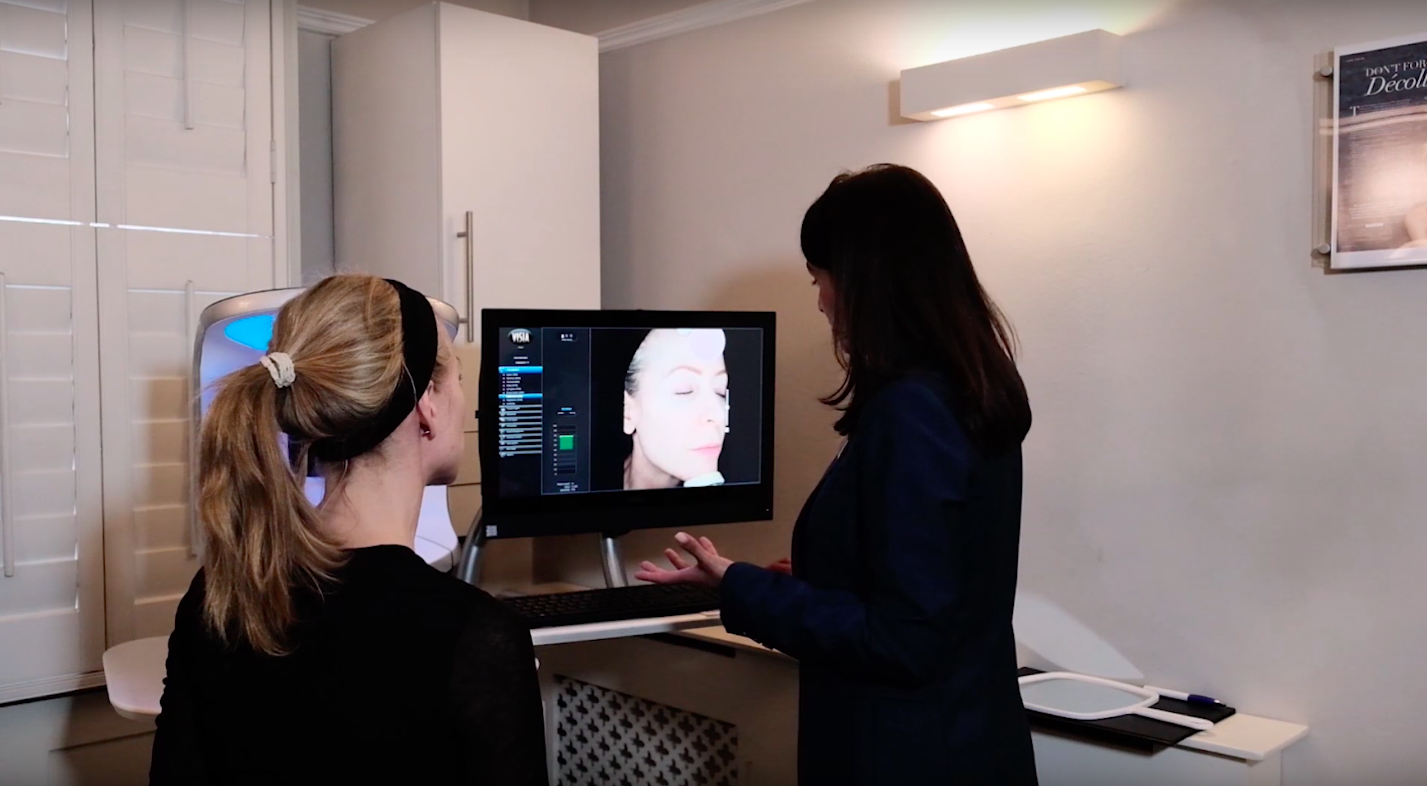 We're going to take really clear images of the skin, I could use a hand held camera and it will take a good picture of the contours of your face, but this gets to grips with what's going on, on the surface and two mm sub-surface. 
Then you will get to try the Intraceuticals treatment and your going to love that, and its going to do a number of things. It will remove the dead skin, then the way it delivers hyperbaric oxygen under pressure will drain the lymphatic system in the face. Then there is the way the  handpiece is spraying a low molecular weight of hyaluronic acid into the skin, so it's going to juice up the skin and make you really really hydrated.
AHD: So, tell me about the products you're using for the cleansing?
E: The main purpose of the treatment is to infuse hyaluronic acid and antioxidants into the skin through oxygen, so you've got vitamins E, C and A – and obviously hyaluronic acid too, so the prepping products have the hyaluronic acid in them to really lightly exfoliate the skin and hydrate before we start and then we'll do a granular exfoliation so we can get all of the antioxidants deep into the skin afterwards. It's a super relaxing treatment which gives instant plumping and hydration. The hyperbaric oxygen helps to repair the skin and helps with any inflammation in the skin so great for all skin types and it's also really quick.
AHD: Its big favourite with celebs isn't it, for red carpet appearances?
E: It's the treatment of choice!
AHD: I remember being introduced to it about 12 years ago when Madonna was doing her world tour and she had a facialist travelling with her and giving her one of these facials before every performance and we were all like, Wow, we have to try this facial!
E: Let's introduce the oxygen.
AHD: The other thing the oxygen does is have an anti inflammatory effect, doesn't it?
E: Definitely.
AHD: That's good if you've got that stressy redness that I find I get quite a bit.
E: It's great for any kind of inflamed skin. It repairs, and it takes inflammation down.
AHD: Now this is the real contouring bit, I can feel you working under that cheek bone… That absolutely lovely – oh look at that glow, can you see the way the light is reflecting off my skin?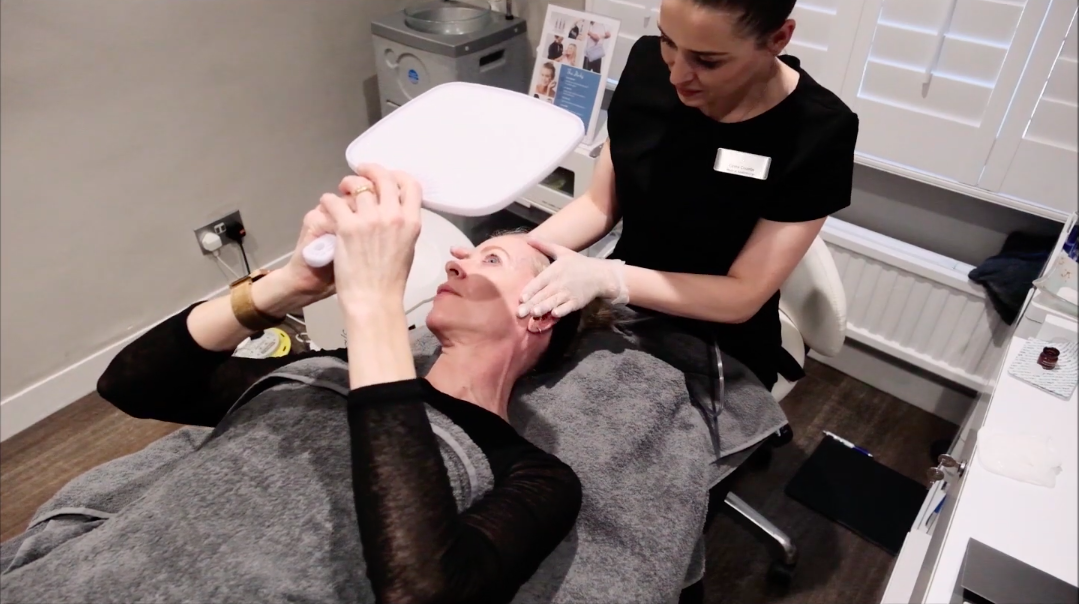 AHD: Well it was fab, it's a lovely treatment. It was super gentle, so does it suit everyone?
SB: Yes, it suits everybody.
AHD: And we all need that extra hydration and a bit of lymphatic drainage is always good  — so what it's really doing is super-boosting the skin, with the hydration and the anti-oxidants.
SB: Well it's doing a couple of thing. It's supercharging the skin with the low molecular weight hyaluronic acid, and hyaluronic acid in our skin as you know depletes gradually when we age, so now we can drive it in but also drive it in with the hyperbaric oxygen, under pressure, which helps the lymphatic circulation in every square inch of your face and that is very healing.
AHD: What I loved as well is the way that it can be used to sculpt the face, also around the cheek, Emma sat me up half way through and showed me actually how one side was much more sculpted and lifted. And it's also good for younger people with acne, isn't it?
SB: You can tailor it to everybody.
AHD:  So it's not just for people with older, dryer skin?
SB: You can tailor it for a younger person who just wants a fresher, more dewy complexion, with more hydration. If you have someone with spotty skin, breakouts, or acne, we have a 'Clarify' version of the treatment, which uses glycolic and salicylic acid, to help clear the skin.
AHD: I had the eye and lip masks, too, I could feel the skin just drinking in all that hydration, so thank you very much, that was lovely!
S-thetics clinic, Beaconsfield