Tweak of the Week: Using Hyalgen Serum™ to enhance skin rejuvenating energy treatments
3rd December 2020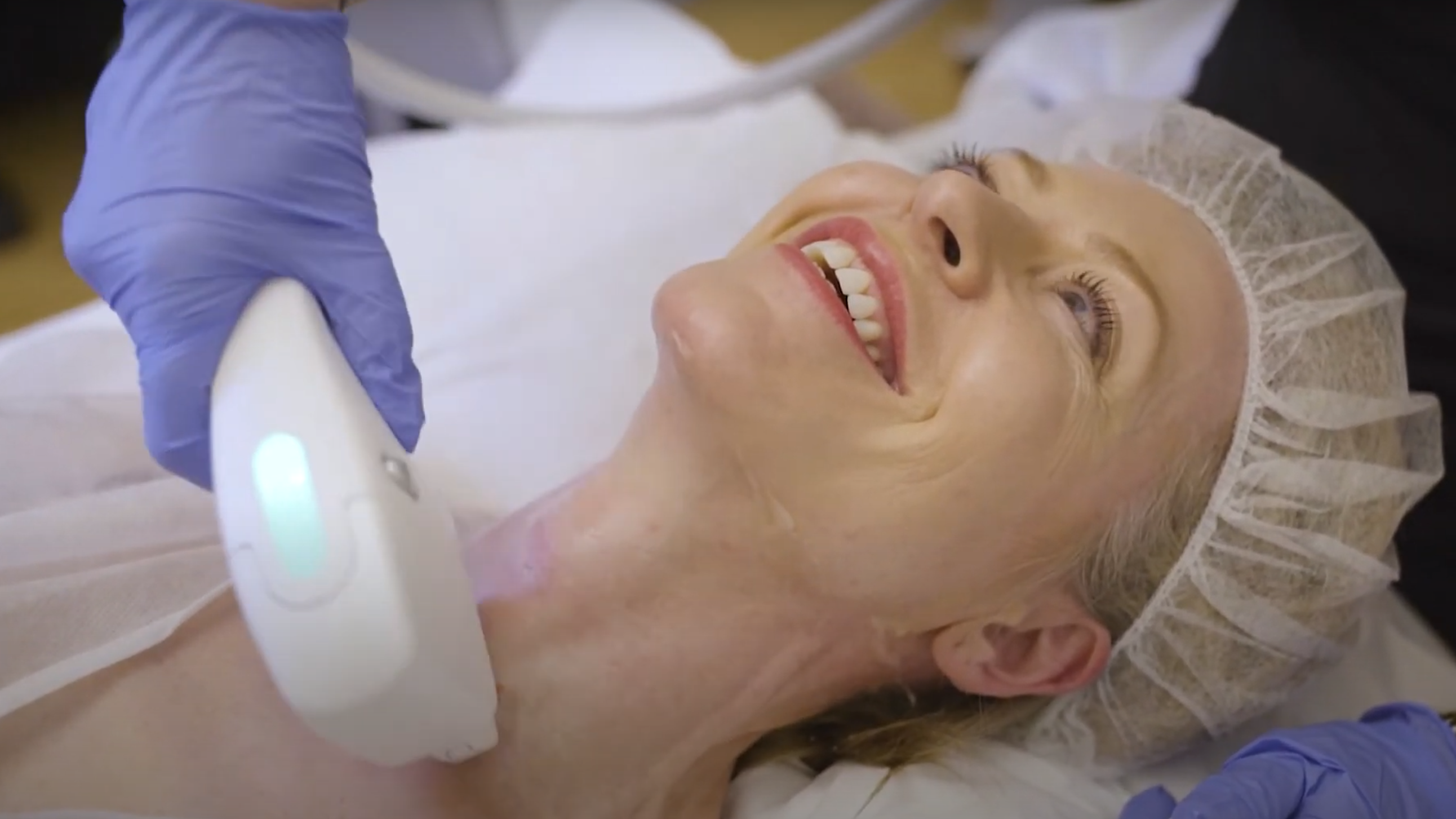 Can using a specific energy-conducting serum enhance the results of ultrasound and radiofrequency treatments? For this week's Tweak of the Week, I went to visit Dr Rita Rakus, one of the longest-standing and most respected aesthetic doctors in the UK with an international and celebrity client base.
Dr Rakus is well known for the impressive results she achieve
s using radiofrequency and ultrasound and for being open to trying new technologies. When I heard that she was getting supercharged results with Elenzia Hyalgen's new, high-tech serum, I knew I had to go and
ask her all about it.
This video is sponsored by Elenzia, and was filmed before lockdown in March.
TRANSCRIPT:
Alice Hart-Davis: My name is Alice Hart Davis and welcome to this week's Tweak of the Week, and this week I've come to Knightsbridge to the clinic of Dr Rita Rakus and I'm going to talk to her about this special new serum that she has, which works not just on its own but in conjunction with the kind of machine technology Dr Rakus uses either for tightening the skin or for improving cellulite and I wanted to find out more about it so come along with me we'll go and see what she has to say.
THE PROFESSIONAL
AHD: So Dr Rita tell me about this serum because it sounds really extraordinary that it can produce these results on the skin and when you add your machine technology it seems amazing, how is it doing this?
Dr Rita Rakus: Well it's the new nano gold technology serum and it has some special particles in it that will activate the cells in your skin to create new collagen, elastin and fibroblasts and that will help tighten the skin. We have one serum that we use with our machines and then there's a take home serum as well, but what happens is when we put the radio frequency and the ultrasound on the skin with the new serum it supercharges the particles and it will help really tighten the skin and produce new collagen, elastin and fibroblasts.
AHD: Ok so when you add the machine energy on top it multiplies its effects…
RR: By about 18 times.
AHD: By about 18 times, that's insane.
RR: I know and we've we started trying it out on a few patients and then when they were coming back for their second and third treatment they'd be going, 'Doctor Rita don't forget the nano!'
AHD: Don't forget the nano.
RR: Yeah, they were just blown away.
AHD: Ok and so what are you using this for, is it body, is it face, is it everything?
RR: Face and body, so on the face we've got one of the special face serums and then we use our new ULTRAcelQ+, also our Pelleve and our Thermage FLX, on the body. We've got our Unison and our new EMTONE for cellulite which is pretty revolutionary in itself but when we put the body serum on, the results are seriously amazing.
AHD: Wow and you can use it with all of all of those.
RR: Exactly.
AHD: Cool, so the one for the body which is Celltense™ isn't it, how is that improving the cellulite? Is it working on the fat or the skin?
RR: No, it works on the skin so it makes the skin a lot stronger and creates a matrix so, to put it sort of like non-scientifically it stops those little fat bulges from coming through, so a nice strong skin matrix and of course our other revolutionary machines to work on the deeper types of cellulite in the five different types so the two technologies together are giving a result that you can't believe.
AHD: Okay and now what you're going to try on me just now is using the other serum which is Hyalgen is it?
RR: Yes.
AHD: On my neck.
RR: We're going to use radiofrequency and ultrasound and we're going to see how we're getting nice now the result you will get a certain result immediately and then it will also improve over three months and then we will also be giving you the Hyalgen to take home to put on as a take home treatment.
AHD: Fantastic looking forward to it okay.
THE PROCEDURE
RR: Ok are you ready for your treatment?
AHD: I am.
RR: Now the beauty of this it's not going to hurt, the old adage it's you know it's got to be painful to do something, is now totally out of the window with all our modern technology.
AHD: Ok.
RR So we're putting the new Hyalgen nano serum on.
AHD: And this is going to improve the hydration, the elastin the collagen.
RR: Exactly.
AHD: Ok.
RR: And it does that by itself but when we put our radiofrequency and ultrasound on, it's really going to boost it. I'm going to put a little bit of gel on as well and we're going to have the new ULTRAlcel Q+, now as you know the Ultracel technology is fabulous and it is the highest medical grade HIFU you can have.
AHD: It's one of your absolute favourites isn't it?
RR: Exactly now this is not going to hurt but how is that all right?
AHD: That's absolutely fine and this is the new type of ULTRAcel isn't it?
RR: Yes so it's the first linear technology so it's extremely fast and when you use it on the body there's a different head and you can also melt fat that's amazing for the little pockets of fat that you can't attack with Coolsculpting.
AHD: So you can like get around the knees and stuff?
RR: It's wonderful for the knees, it could also help some patients if they have got a small amount of fat underneath the chin that is not enough for Coolsculpting and usually you don't want to remove all the fat under the chin otherwise you can get crepey skin. So this is great as well to if you've got a tiny bit of fat to remove from under the chin but today we're using the head of the Q+ that is just doing the skin tightening.
AHD: It's very comfortable like it's just the lightest flickering of energy that's all I can feel and this is the one you've called coffee break HIFU?
RR: Exactly.
AHD: Because it's so quick you really could have a treatment in a coffee break and ultrasound is working by hitting those collagen bundles in the skin isn't it? opening them up.
RR: It's going down to the level what we'll call the smas where the plastic surgeons work so it's giving you that very deep tightening and we've got here on the machine you can see on the screen there's a little star going off that shows you what gaps we're actually doing the treatment which is fabulous, and we're halfway through with this and then we're going to be doing our quick fix radio frequency treatment, that way you'll see the result, you do see some results with this but it slowly improves over three months okay whereas our quick fix Pelleve you'll see a result straight away and then when that starts wearing off this one will have kicked in.
AHD: Right so this is a combination you would often do together is it?
RR: Yes, so now we're going to do the radiofrequency … you're having a nano bath today. a gold bath, Cleopatra nano immersion or having a gold nano bath.
AHD: And does the heat from the radio frequency help drive the gel right into the skin as well.
RR: Exactly okay, now just tell me if it gets too hot.
AHD: That's fine so far, because I know with radiofrequency you have to build the heat in the skin up to a certain degree don't you in order to get that tightening within the skin.
RR: That's right and we've got a little temperature gun here that we'll be checking.
AHD: And then once you get that temperature raised in the skin it has a sort of shrink wrapping effect on the collagen doesn't it so you get that immediate tightening as well as a kick starting the future tightening.
RR: It's quite pleasant isn't it?
AHD: It it's nice yeah, which is great because so many treatments I've tried in the past you have to you do have to grit your teeth to get through but this is absolutely great.
RR: It also stimulates new collagen growth so you're getting a whole new glow to your skin which the other treatments don't DO but see how it's getting better slowly.
AHD: Yeah, actually it feels…
RR: It's good isn't it?
AHD: Yeah, it's quite different… how interesting.
RR: And I will just do a tiny bit more and that will improve slowly over the next three months.
AHD: So that was treating my neck with Elenzia Hyalgen and both the ultrasound and the radiofrequency treatments to energise those particles into my skin and I know the ultrasound is going to take a few months to show what it's doing but with the radio frequency I've got this real instant tightening I'm not going to pinch it now because it'll go all blotchy but if it's definitely tighter than it was before this multiplying effect that the Elenzia has on the radio frequencies certainly seems to have done the trick. So that was this week's Tweak of the Week, thank you very much for watching.