Exercise: what I do (and what works)
24th February 2018
I do a lot of exercise. So when The Times rang to say they'd seen a picture of Kelly Hoppen, the interior design guru, looking a-mazing in a bikini at 58, and that she did insane amounts of exercise and would I write a piece talking to Kelly and her trainers about what she did and how and why – and also, go and work out with the fabulous Efua Baker, who oversees Kelly's training programme, and then write about 'my week working out like Kelly' (deep breath to process all that) of course I said yes. Besides, I do that much exercise anyway.
So it was immense fun, particularly doing the shoot with Efua, who took a look at me, said, 'I've got this idea…' and explained to photographer Chris McAndrew how she would scramble up onto my back while I did a squat… 10 or 20 years ago i would never have even tried this (dodgy back for, like, ever) but now I'm stronger… So we did it, and it was a blast and made a great shot, but alas the Times didn't use that pic. Probably because it needs to come with a qualifier saying: Do NOT try this at home, folks…
Anyway. The published piece is out today and, as always, a bit different to what I wrote. It wasn't meant to be all about me (but now it is, I'd better own it, hadn't I?). But here below, for what it's worth, is the original draft. (The Times piece, if you're a subscriber, is here)
The rise of the ageless body
Few bikini selfies have as much impact as the one that Kelly Hoppen posted on Instagram. Not just because she looks sensational, all lithe toned limbs and abs to die for, but because — hang on a minute — she is 58.
Fifty-eight? In most people's minds, that just does not compute. She's not a model or an athlete, she has an MBE for services to interior design, how very dare she look so buff? But there she is, without any fancy lighting or filters, with a honed, ageless body. Talk to anyone in the fitness industry, even to those whose gym spaces or classes are mainly full of youngsters, and they'll tell you, this tribe is on the rise.
The baby boom generation, now 54 and over, has never been one for following what its elders did and middle-aged spread and comfortable old age are alien concepts. Who says you have to let your body go, anyway? If you've worked to stay fit all your life, are you really going to stop just because you're in sight of your free bus pass?
Don't you dare tell this lot that they are looking good 'for their age'. 'Age has nothing to do with it,' I says Kelly Hoppen, 'I don't think about age, ever. I want to inspire other women who feel they can't do this because they absolutely can.'
It's about looking good, full stop, though for this tribe, the fit-body-result is the least of their motivations. They work out to beat stress, to gain focus for their high-powered jobs, to sleep better, to protect dodgy backs. The fit body is just another happy side effect. 'I'm a woman, of course I want to look good,' says Kelly, 'but I love exercise. It makes me feel much better in myself.'
It does take a lot of exercise. In Kelly's case, a week's schedule includes two weights sessions with super-trainer Efua Baker who oversees her whole programme, backed up by two more with strength coach Joslyn Thompson, pilates with celeb specialist Kamran Bedi and the odd run (and more on holiday when she has the time).
You might think this isn't feasible for lesser mortals. Snagging elite trainers needs a lot of money, and exercise takes time, though ageless bods will always make time for it. But there are plenty of us who see fit to exercise like lunatics just…because and – confession time — I am one of them. I'm a member at a private training gym, a yoga centre and the local gym and schedule exercise sessions in my diary before the rest of life gets in the way.
So what's it like to work out like Kelly? This is how my week went.
Monday: Weights
'Keep it really solid,' advises Efua Baker as I lower myself into a squat. Next thing I know, she has scrambled onto my back and we're both laughing fit to bust. 'Squat the trainer!' she commands. Wowzers! What a power move!
Efua is known as 'the body producer' for her ability to give clients the lean, super-shredded shape that the camera loves, and specialises in fast body turnarounds for young rock gods and screen stars. Kelly Hoppen is one of her rare older-regulars and she has supervised Kelly's training for nearly 12 years. She trains older men, too, and knows all about the ageless body phenomenon. 'Oh yes, I'm working with some really in-shape guys,' she says. 'They have the kind of upper body build that 20-year-olds long for.' We're training at the super-slick KXU club in Chelsea, where Efua is well known; I suspect she brings some of her young clients here.
Working in the celeb-o-sphere, she usually shuns publicity but has stepped up for the Times photoshoot because now she is 53, encouraging older men and women into exercising effectively is something she feels strongly about. When you start feeling those changes in your body, she advises – when you're creaky in the morning, or you start getting a gut – don't panic, but you need to get on the case. 'You need to think, what am I going to do to correct these things, because there is so much available,' she says. 'Whether or not you have money, you can do it, but it does take effort.'
Like Kelly, she has trained since she was a teenager. She was a dancer in the music industry before she moved into training others. She has adapted her own training programme in the past few years. 'I used to run like Forest Gump, but now I do more stretching and more weights, which has been of huge benefit aesthetically to me. I was worried I'd bulk up but if you eat the right diet, a little of everything with no cutting out whole food groups, you just get a hard, lean body.'
We've moved through warm-up movements, lunges, played with kettlebells and her attention to detail is fabulous. 'Tuck and grind!' she commands, pointing at my pelvis. That's the way to counteract a sticky-out lower tummy, by pulling in the lower abs and tucking your tail under.
Tuesday: Pilates
Kelly Hoppen has recently added weekly pilates to her workouts, to strengthen her back. It was a bad back that first drove me into the pilates studio 25 years ago, and now I do mat-based classes with Antonia Ptohides at Indaba [it's a yoga centre which also offers pilates].
I used to think mat pilates was half-arsed compared, say, to the kind of pilates you can do on sliding 'Reformer' equipment – but it's not when your teacher is as fierce and laser-focussed as Antonia. She stalks daintily around the class prodding tummies flatter and encouraging extended legs to go straighter. Exact positioning targets key muscles in the core, the back and the bum, so your body can hold itself upright better. That and many repetitions. Does Antonia see these ageless body types? 'Of course,' she says. 'My oldest client is 82.'
Wednesday; chest-and-back/weights
Strength training is crucial for the older body. It helps build lean muscle, which otherwise starts to drop off at a rate of up to 5 per cent per decade from the age of 30 if you are inactive. Also that lean muscle scoffs up more calories, even when at rest, than fat, so it boosts metabolism and improves hormonal balance, too. In the past year, I've become a regular at The Clock, a weights-gym in Wimpole Street where many members are ageless-bodied pensioners. I do four short sessions a week – all closely supervised – but because the sessions are so short, and they're open from 6am, and they make you schedule a month at a time, I find I just get on and do it.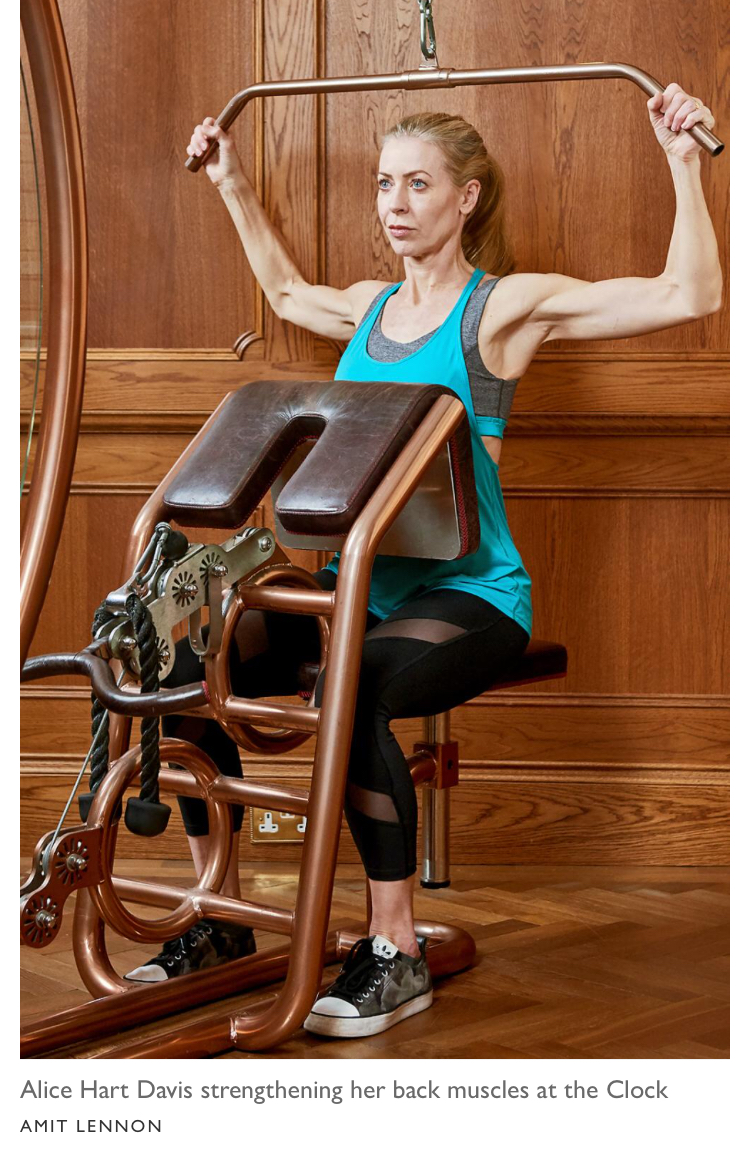 'What you really need in an exercise programme is consistency,' says Stephen Price, a leading personal trainer who has known and worked with Kelly Hoppen for 17 years. Most of Stephen's clients are in the 55+ ageless body bracket. 'What Kelly does isn't just training for the sake of training. She's really consistent with her whole lifestyle, and she's motivated enough to work out even when she doesn't have a trainer.'
Thursday: dynamic yoga
At lunchtime, I abandon my desk for an hour of fast-moving, hot yoga at Indaba. This is my favourite kind of exercise for the sheer fun of it – the stretching, the backbends, the arm balances and headstands, none of which I could do when I joined six years ago. But it really doesn't matter what you can or can't do because it's not goal oriented, which is why I love it. It took me a long time to grasp that all you need to do is show up on the mat and practice.
'You need flexibility as well as fitness,' says Efua, 'there's not just one thing that goes into looking amazing.' Yoga and pilates certainly help with that.
Friday: Weights/ Legs day
Legs day is always a killer. At the Clock, at least it's quick. The centrepiece is three sets of 20 split squats – that's with one foot forward and the other stepped back in a lunge, with weights on my shoulders as heavy as I can manage. Five years ago, I used to loathe this sort of thing – the pain, the sheer effort, the thought of 40 more to go – but now I focus relentlessly on the positive. I'm firming and sculpting my backside! I'm protecting my back! I'm getting stronger! Now, I almost enjoy it, and that's important [say both Stephen and Efua], because you are never going to develop a habit of consistent exercise if you're forcing yourself to do exercise that you hate. I've done enough spinning, boxing and barre classes to know they're not for me, but stretching! I love that. I even love using a foam roller will lie there, wincing in front of the 10 o'clock news as I roll out knots from my thighs and shoulders.
Saturday: treadmill sprints/ Arms-and-shoulders/weights
I'd prefer to avoid cardio, but know that exercise that gets the heart going has huge health benefits. I cycle to get around London but too cautiously for it to count as cardio. I've never been good at running and find it hard to run in the park (sometimes I trying sprinting when out with the dog, which always startles him), but I can manage a six lots of 30-second uphill sprints on a treadmill, to push my heart rate to 90% of its maximum. So I go to the local gym to do this once a week on my way home from the Clock, when I'm feeling pumped and have 10 minutes to spare. Efua says cardio is the best way to strip fat down, too, which is encouraging. Talking of fat loss, you need to mind what you eat if you want an ageless body. Kelly eats very healthily and doesn't drink alcohol every day. 'But you could diet all you like and still not look like her,' says Efua, who advocates a little-of-everything, healthy and home-cooked style of eating. And no faddy cutting out of food groups, either. 'Remember, fat burns in a carbohydrate flame!' she says. Which I think means that you need to carbs to fuel you to get going, in order to burn the fat. Decide I won't tell her I've been on a low-carb, high-fat regime for months.
Sunday: a Big Walk
With a bunch of old friends, I'm walking the Thames Path in 10 mile chunks, and it's a total joy, even in sleety rain. We stump along chatting, and end up in a pub for lunch. All classic middle-aged stuff, except that two of my girlfriends in the group, who both have demanding, full-time jobs, have recently become devotees of open-water swimming. Now that IS hardcore, but I'm starting to realise that it's typical of this ageless body lot.
If we're not off walking, I'll sneak back to Indaba. Stephen Price stresses how important it is to do something, exercise-wise, every day. But not to push yourself so hard that you can't exercise consistently, because consistency is more important. 'If you're doing something one day which means you struggle the next day, you need to look at that,' he warns. What about rest? He's not keen on pure rest and says it's never the best option, even for people who are in pain or recovering from life-threatening injury – the sort of cases he is dealing with the whole time. He'd rather we were doing something – maybe stretching, maybe breathing exercises – every day, just because these all have a beneficial effect on our nervous system, and that benefits our overall wellness.