What's the buzz about radiofrequency microneedling?
10th April 2021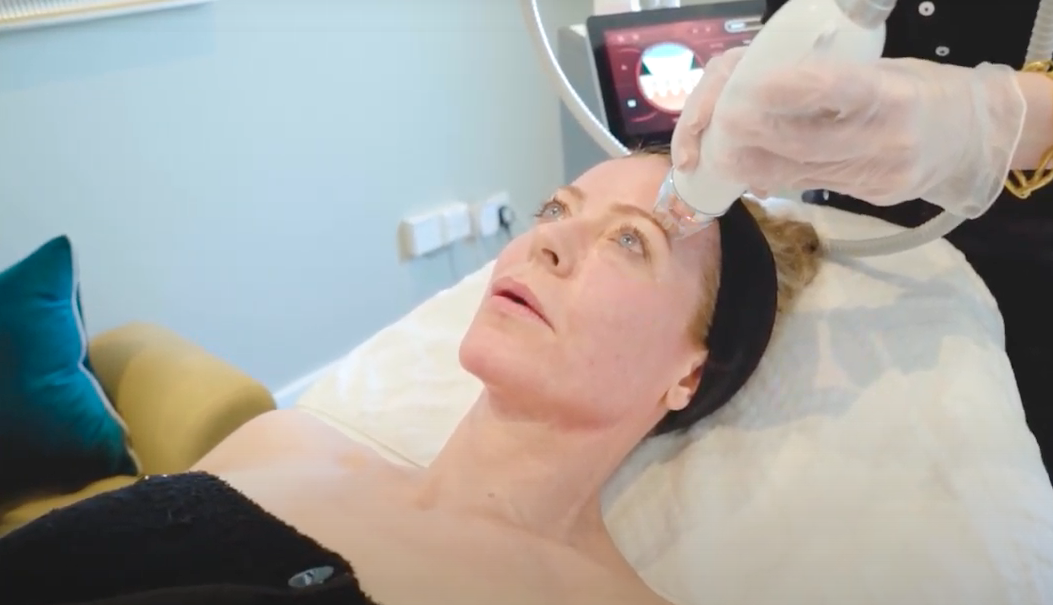 Radiofrequency microneedling has been getting a lot of air time recently, in large part due to the publicity surrounding those before and after pictures of Judy Murray's amazing transformation by Dr Judy Todd (if you haven't seen them check them out on the blog I wrote about it at the time.)
But what's so great about this treatment and why is it such a hot tweakment right now?
In simple terms, radiofrequency microneedling brings the skin tightening benefits of radiofrequency and the rejuvenating benefits of microneedling together in one powerhouse treatment to target wrinkles, acne scars, lax skin, large pores and photo-ageing all at the same time.
The treatment delivers radiofrequency heat/energy into the skin through lots of tiny needles. These needles are usually insulated, except for their tips, so that the RF energy they dispense is delivered directly to the dermis, rather than dispersed into the rest of the skin that the needles are passing through.
Is RF microneedling better than RF or microneedling alone?
Radiofrequency and microneedling are both popular treatments in their own right and they actually do very similar things, namely boosting collagen and elastin, however, the way in which they do this is different and each has its own unique benefits and advantages.
Radiofrequency stimulates our body's cellular responses using heat, which helps tighten existing elastin and collagen at the same time as boosting new collagen. Microneedling creates a controlled injury, which stimulates the body's wound healing response, once again kick-starting fibroblast activity, resulting in tightening and boosting of new and existing collagen and elastin.
By combining these two already effective technologies into one, it effectively gives a double whammy when it comes to boosting collagen and elastin.
The added bonus with RF microneedling is that it is suitable for all skin types. This is because, unlike treatments like lasers which use light, neither RF nor microneedling affect melanin in the skin. RF also has good depth control and delivers energy directly into a precise target area which makes it safer for all skin types.
Are there different types of radiofrequency microneedling?
Yes, there are a number of radiofrequency microneedling treatments on the market. You may have heard of Morpheus8 by InMode (that's the one Judy Murray had); Secret RF from Cutera (which I previously tried out for my Tweak of the Week); Profound RF; Focus Dual by Lynton and INTRAcel, with more being launched in 2021 by some of the other leading devices brands.
How many radiofrequency microneedling treatments will I need to see a result?
You will typically need around four treatments at regular intervals, every three to eight weeks. This allows your skin to heal in between treatments. Some practitioners recommend more treatments or top up treatments to maintain results. It can take three to six months to see results.
How long does radiofrequency microneedling last?
The effects of radiofrequency microneedling treatment should be long-lasting – usually up to a year – however this depends on your own baseline (the quality of your skin before treatment) and your lifestyle factors i.e. how you look after your skin post treatment and whether you drink/smoke/eat an unhealthy diet or sunbathe.
Are there any side effects to radiofrequency microneedling?
Radiofrequency microneedling uses both heat and needles, so there is the potential for things to go wrong, albeit very rarely.
Side effects can include:
Bleeding
Redness
Bruising
Itching
Herpes/cold sore breakout
Dryness
Pin prick marks on the skin

What is it like to have radiofrequency microneedling?
In my experience, it's not too challenging and it gives great results for skin quality and tightening. If you have already flinched at the mention of repeated needling – you're right, it is not comfortable, but your practitioner will give you enough numbing cream beforehand to make sure that you are comfortable.
The main advantage of radiofrequency microneedling is you are effectively getting two treatments in one.
The radiofrequency energy has a kind of shrink-wrapping effect on the collagen deep in the skin, so the skin will regenerate from the inside. At the same time, you've also got the knock-on effect of the microneedling, which is creating tiny wounds in the skin so, as those heal, you get an extra degree of collagen contraction and skin regeneration. What's not to like?
Want more information about RF microneedling?
Here's my full tweakment page on RF microneedling – scroll down on it for all the FAQs
To find practitioners on this site who offer this treatment on my site, hop over to the Practitioners section, choose 'radiofrequency microneedling' from the drop-down menu, and hit search.