SOAPWALLA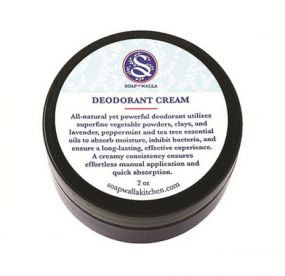 What is it and what's the USP? It's vegan skincare handmade in small batches in Brooklyn, New York. It uses learnings from botanicals, aromatherapy and whole-body nutrition to create a holistic range of healing products.
Hero product? Soapwalla Deodorant Cream (£12, abeautifulworld.co.uk), a thick, creamy clay-based consistency that absorbs unwanted moisture quickly whilst the antibacterial and antimicrobial essential oils – lavender, tea tree, peppermint and bergamot keep underarms feeling fresh.
How new is it? The deodorant cream made its debut in the UK on Abeautifulworld.co.uk last autumn; other products in the line have yet to follow it across the pond.