COLLAGEN SHOTS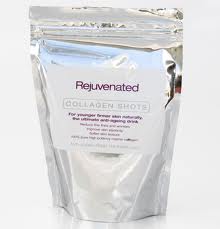 What is it? The latest 'beauty supplement' designed to improve your skin from the inside out.

What's the USP? .A daily dose of powdered hydrolysed collagen, with a side-helping of hyaluronic acid, to boost the natural reserves in your skin, enhance collagen formation and moisture levels in the skin and generally make you look more lovely.
Why the name? Sounds pretty cool and a bit risque, non? Somewhere between the sort of shots that young people drink when they go out drinking, and the collagen injections that used to be used for trout-pouts?


How new is it? Launched last year; £36 for a 30-day supply from collagen-shots.com.

I'd definitely try it… After a rather half-hearted go at trying it (you're meant to mix it up into a glass of water last thing at night, and it tends to go all lumpy and I couldn't quite be bothered, and also you're meant to have it on an empty stomach and my stomach isn't always that empty at bedtime, so I'd rather given up) I started hearing endless enthusiastic stories from friends in the beauty business who reckoned it had given their skin a real boost. So I dug the packet out and started again and am now taking the stuff diligently, not least because I've been commissioned to write a piece about whether or not it makes any difference to my skin. Unlike some of the skin-pills out there, Collagen Shots doesn't have any clinical trials yet to demonstrate its efficacy, so all the success stories are anecdotal, but I was hooked when one friend told me that she knew it was working because the skin on her elbows was no longer dry and scaly… Is it working? I'm due for my 'after' Visia analysis in 10 days, so I'll post an update when I get to the end of the project.